Services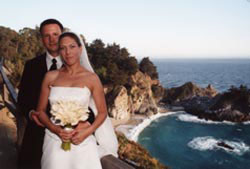 Since the promises two people make to each other on their wedding day will form the foundation of their future together, it is very important that adequate time and attention be given to exploring these precious words. The rings may also be given in many ways. I have for example arranged for them to be brought forward by a much-loved pet, floated on giant leaves and often children love to be involved here as well.
In order to create a service that embodies all the elements of the hopes and dreams that a couple bring to that very special day, I ask the couple to join me for a conference call that is divided into two parts: The first part will be to attune to all the ingredients that are important for the ceremony to truly represent the emotional and spiritual wishes of the bride and groom; the second part is for us to form the events of the day, including who will speak, sing or play.
The conference call is a time of exciting and insightful discovery even for two people who know and love each other. I see myself not just as a minister but as a weaver of the multitude of threads that become the ultimate tapestry.
On the day of the wedding I usually arrive early enough to be able to meet with the closest family and friends so that they have an opportunity to gain a sense of who I am. The congregation has an important role to play on such a day and I normally spend time immediately before the beginning of the actual service speaking to them about that and helping them to feel both engaged and included.
There are endless options as to how a wedding ceremony may be composed. It might be traditional or more uniquely personal, according to preference. In either case, I generally recommend that we create a service that lasts 20 to 30 minutes. This is a very important occasion, and if it is over too quickly, it may be difficult to stay present to the experience as it unfolds. Slowing the pace so that it becomes an embraceable moment is part of my role as the minister.
Since this is a creative process there may be many variables, so it would be impractical to say what the cost would be until we have spoken about your needs and wants. Your first phone call will clarify many things and is without charge.
Enquiries without obligation