Wedding Reviews
Tony & Cori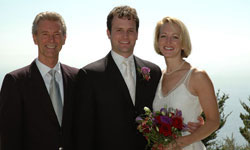 "Thank you so much for creating such a special ceremony for us. It was truly perfect and unforgettable—we could not have asked for a better person to officiate. We really appreciated your words, your presence, your peaceful way, and the manner in which you interacted with our family members. Everyone, including our photographer, Michael, said that you were amazing. Michael asked for your information and said that someday he might get married, and if he does, you're going to be the one he calls."
---
Cody & Michelle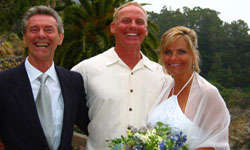 "Dear Ken, it was an awesome ceremony in an even more awe inspiring location. Thank you for the wonderful presentation, it was both casual and reverent. Just what we wanted!"
---
Michele & Leon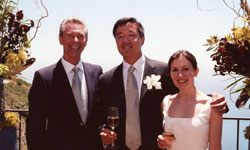 "Dear Ken, Michele and I were truly delighted with the ceremony you created. You captured our marriage intent in words that fit perfectly with our hopes of having a unique wedding, personalized for us! Our guests had only compliments for you, such as you have the perfect voice and that you seem to have been born to perform wedding ceremonies. It was wonderful."
---
Jason & Michelle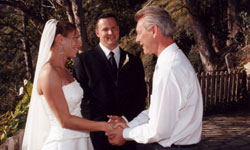 "Thank you for performing a spectacular ceremony!"
---
Michael and Inga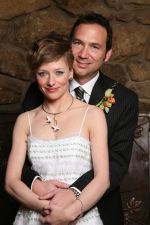 "Dear Ken, We want to thank you so much for the beautiful ceremony and hearfelt and touching vows.
You looked into our hearts and souls and transcribed exactly what we were feeling.
Love, Inga and Michael.
---
Ker & Tina
Ken officiated at our wedding in September and we couldn't have been happier. Deciding on an officiant was one of the last things we did during our wedding planning, partly because we didn't really know what we wanted. But Ken made it easy.
Before we had even made a final decision, Ken invited my wife and I to his beautiful home in Carmel (we were in the area) and spoke to us both in detail. He asked us what kind of wedding we wanted, and verbally walked us through the entire ceremony. Ken takes the time to get to know you, and tailors the ceremony to fit your needs and requests. As a result, our wedding felt very personalized.
In addition to being a good listener, Ken is also a very eloquent speaker. Thanks in large part to Ken, our wedding ceremony was beautiful – at turns sacred, uplifting, and funny – and we will remember it with fondness. Thank you, Ken.
I would recommend him to any couple without reservation.
---
Jeanine & David
"We knew that we loved each other very much. What we didn't know was that we would feel it even more after we had spoken with you and experienced the most amazing wedding ceremony."
---
Kumar & Parvati
"We trusted you from our first conversation, but we were not sure how our ceremony would be since we are from India. The ceremony you created for us united not only our hearts, but our cultures. A thousand thank you's."
---
Jenny & Luke
"Thank you for creating the most memorable day of our lives. Your guidance and support helped us stay excited for our wedding day when details struggled to overcome us. We will always remember you."
---
 Yelp! Reviews
Read Allison L.'s review of Ken Robins on Yelp